Kenya is a magical country with beautiful sceneries ranging from parks, beaches to historical attractions.
The beautiful historical places will teach more about the country and its peoples culture while the parks, forests and beaches are perfect for family or couples vacations.
I have compiled 29 destinations both famous and overlooked that will be perfect for your enjoyment and i hope they will soon be in your bucket list.
PARKS,RESERVES AND FORESTS
Maasai mara national reserve
Simply known as 'The Mara' it is located in southwestern Kenya in the Great Rift valley. It boasts of animals like lions, elephants, cheetahs, hippos, crocodiles, rhino and cape buffalo.
Every year around 1.5 million wild beasts migrate from July to November. Activities for families and friends are available such as Game viewing, camping and drives in the reserve. The peak season is from July to October.
Haller park
It is located in Bamburi, Mombasa
This tree reserve was once an inhabitable quarry that had to be transformed into a sanctuary for endangered animals and plants. The Park consists of a Game Sanctuary, Reptile Park, small demonstration Fish Farm area, Palm Garden, Crocodile pens and a giraffe viewing platform.
Tsavo west national park
Tsavo West is quite a popular destination on account of its magnificent scenery, Mzima Springs, rich and varied wildlife, good road system, rhino reserve, rock climbing potential and guided walks along the Tsavo River. The park is operated by Kenya Wildlife Service.
It has a variety of wildlife, such as eastern black rhinoceros, hippopotamus, Cape buffalo, elephant, leopard and lion. There are also other smaller animals that can be spotted in the park, such as the bushbaby, hartebeest, lesser kudu and Masai giraffe.
Nairobi national park
It boasts a large and varied wildlife population and is one of Kenya's most successful rhinoceros' sanctuaries. Species found in the park include African buffalo, baboon, eastern black rhinoceros, gazelle, Grant's zebra, cheetah, Coke's hartebeest, hippopotamus, African leopard, lion, common eland, impala, Masai giraffe, ostrich, vultures and waterbuck.
Nairobi mamba village
It is East Africa's largest crocodile farm Resting on over 30 acres of land, the farm has about 70 Nile Crocodiles and ostriches. There are also boat riding, horse and camel riding activities.
Giraffe center
It's located in Langata, 12 minutes from the center of Nairobi, Kenya. It was established in order to protect the endangered giraffe. The main attraction for both school children and visitors is feeding giraffes from a raised observation platform. It is also a home for warthogs.
Karura forest
Karura Forest is an urban forest in Nairobi. It is managed by the Kenya Forest Service in conjunction with the Friends of Karura Forest Community Forest Association.
The forest is home to some 200 species of bird as well as suni, Harveys Duiker, bushbucks, bush pigs, genets, civets, honey badgers, bush babies, porcupines, Syke monkeys, bush squirrels, hares, fruit bats, and various reptiles and butterflies. Karura now has over 50 km of trails for visitors to walk, run or bike.
Amboseli national park
It's a national park in Kajiado South Constituency in Kajiado County famous for being the best place in the world to get close to free-ranging elephants. Other attractions of the park include opportunities to meet Maasai and visit a Maasai village. The park also has views of Mount Kilimanjaro, the highest mountain in Africa.
Shimba hills
The Shimba Hills National Reserve is a small National Reserve in the Coast Province of Kenya.
It is an important area for plant biodiversity – over 50% of the 159 rare plants in Kenya are found in the Shimba Hills, including some endangered species of cycad and orchids. It is also a nationally important site for birds and butterflies.
HISTORICAL ATTRACTIONS
Kenya Archives
Situated at the edge of the central business district in downtown Nairobi along Moi Avenue next to Ambassadeur Hotel it houses the Murumbi Gallery which contains African artifacts that were collected in the 19th century. t is currently the largest Pan-African art gallery in Africa and it contains ancient art collections from different regions and communities of Africa
Gedi ruins
A historical and archaeological site near the Indian Ocean coast of eastern Kenya. The site is adjacent to the town of Gedi and within the Arabuko-Sokoke Forest. All of the buildings in Gedi, which include mosques, a palace, and numerous houses, are made from stone, are one-story, and are distributed unevenly in the town.
It also contains earth and thatch houses, stone pillar tombs which are a distinctive type of Swahili coast architecture. Gedi's architecture and an abundance of imported material culture including pottery, beads, and coins provide evidence of the city's rising prosperity over the course of its occupation from as early as the eleventh century to its abandonment in the early seventeenth century
Fort Jesus
It's a fort located on Mombasa Island. Fort Jesus is now a popular destination for foreign and local tourists. As well as a tourist destination, the Fort is important as a host for numerous research programs, a Conservation Lab, an Education Department, and an Old Town Conservation Office. Fort Jesus was declared a national park in 1958, and in 2011, it was declared a World Heritage Site by UNESCO and highlighted as one of the most outstanding and well-preserved examples of 16th-century Portuguese military fortifications.[2] The fort is Mombasa's most visited tourist attraction.
Lord Egerton castle
Lord Egerton Castle is a house styled like a fortress located 14 km outside Nakuru, Kenya. The foundation was laid in 1938 by Maurice Egerton, 4th Baron Egerton. The architect was Albert Brown. Construction continued until 1954. The story behind Lord Egerton Castle is a heart-wrenching tale of unrequited love.
Kakapel caves
Kakapel National Monument is one of Kenya's premier rock art sites, uniting a variety of styles and artistic traditions over a long period of time in one location. Most of the rock art at Kakapel consists of rock paintings, but also engravings including cupules and grooves can be found. At Kakapel several styles of rock art representing different periods of can be seen
Koobi fora
Koobi Fora refers to a region around Koobi Fora Ridge, located on the eastern shore of Lake Turkana in the territory of the nomadic Gabbra people. It is composed of claystones, siltstones, and sandstones that preserve numerous fossils of terrestrial mammals, including earlyhominin species.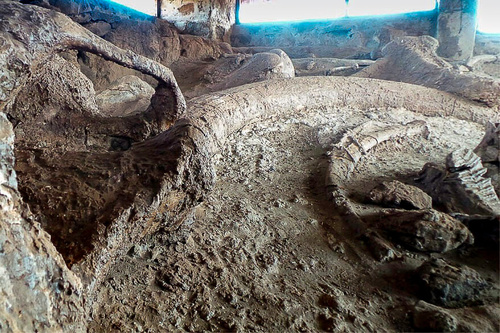 Jumba la mtwana
Jumba la Mtwana means 'Big House of Slaves' and locals believe the town was an important slave port in the 14th or 15th century. There's a small museum on Swahili culture and an excellent restaurant by the sea, and the custodian gives excellent tours for a small gratuity. The ruins are down a 3km access road, 2km north of Mtwapa Creek bridge.
The remains of buildings, with their exposed foundations for mangrove beam poles, ablution tanks, the heft of the resident baobabs and the twisting arms of 600-year-old trees are quite magical. In the dying evening light, your imagination will be able to run riot with thoughts of lost treasures, ghosts, pirates and abandoned cities.
Olorgesaillle
Human tools are the most prominent of all historic items in the area. Olorgesailie is a geological formation in East Africa containing a group of Lower Paleolithic archaeological sites. It is noted for the large number of Acheulean hand axes discovered there that are associated with animal butchering. According to the National Museums of Kenya, the finds are internationally significant for archaeology, paleontology, and geology
Preservation of the Aechulean hand axe culture was made possible by heavy falls of alkaline ash from volcanoes near the site that were active at the time. Mount Suswa and Mount Longonot are volcanoes and their vents are likely to have contributed to the ash that accumulated in the Olorgesailie basin.
MOUNTAINS,BEACHES AND LAKES
Lake Nakuru
Lake Nakuru is one of the Rift Valley soda lakes at an elevation of 1,754 m (5,755 ft) above sea level. It lies to the south of Nakuru, in the rift valley of Kenya and is protected by Lake Nakuru National Park.
The lake's abundance of algae attracts a vast quantity of flamingos. Other birds also flourish in the area, warthogs, baboons, Eastern black rhinos and southern white rhinos.
Waterbuck are very common and both the Kenyan subspecies are found here. lions, cheetahs, leopards and pythons inhabit the dense woodlands.
Mt Kenya
Mount Kenya is the highest mountain in Kenya and the second-highest in Africa, after Kilimanjaro.[4] The highest peaks of the mountain are Batian (5,199 metres or 17,057 feet), Nelion (5,188 m or 17,021 ft) and Point Lenana
Mount Kenya is a stratovolcano created approximately 3 million years after the opening of the East African Rift. There are several vegetation bands from the base to the summit.[10] The lower slopes are covered by different types of forest. Many alpine species are endemic to Mount Kenya, such as the giant lobelias and senecios and a local subspecies of rock hyrax. Mount Kenya National Park, established in 1949, protects the region surrounding the mountain.
Nyali
Nyali is a residential area and Sub-County within Mombasa City, located on the mainland north of Mombasa County. Nyali is renowned for its tourist potential, thanks to its calm water, accommodation facilities and its coast bordered with white sand beaches protected by a coral reef, loved by divers. This is a part of the Mombasa Marine Reserve, managed by Kenya Wildlife Service.
Nyali also has many luxury hotels such as Sarova White sands, Nyali Beach Resort and Mombasa Beach Hotel. There are numerous places of entertainment and activities for the tourists such as skiing, scuba diving and beach volley
Diani
Diani Beach is a major beach on the Indian Ocean coast of Kenya. It has been voted Africa's leading beach destination for the fifth time running since 2015.
It is known for its coral reefs, black-and-white colobus monkeys, and for the closely located Shimba Hills National Reserve, a wildlife reserve which looks out over the Indian Ocean. Diani Beach is also a popular kitesurfing, sky diving, jet skiing, and snorkeling location.
Malindi
Malindi is a town on Malindi Bay at the mouth of the Galana River, lying on the Indian Ocean coast of Kenya. It is 120 kilometers northeast of Mombasa. It is the largest urban center in Kilifi County.Malindi developed as part of the emerging Swahili Civilization in the 5th–10th centuries. It sits amid a string of tropical beaches dotted with hotels and resorts. Malindi Marine National Park and nearby Watamu Marine National Park are home to turtles and colorful fish. Arabuko-Sokoke Forest Reserve harbors elephants and more than 200 species of birds. Near the forest, the Gedi Ruins are the remains of an ancient Swahili town.
Tourism is the major industry in Malindi. The city is popular among Italian tourists.
A Portuguese explorer Vasco da Gama met Malindi authorities in 1498 to sign a trade agreement and hire a guide for the voyage to India, when he erected a coral pillar. The pillar stands to this day.
Great rift valley
The Great Rift Valley is part of an intra-continental ridge system that runs through Kenya from north to south. The relics of many hominids, ancestors of humans, have been found here.
The valley is bordered by escarpments to the east and west. The floor is broken by volcanoes, some still active, and contains a series of lakes such as Lake Turkana, lake Nakuru, Lake Naivasha, Lake Baringo, Lake Bogoria, Lake Magadi and Lake Elementaita.
The Hell's Gate National Park lies south of Lake Naivasha
Menengai crater
Menengai Crater is a massive shield volcano with one of the biggest calderas in the world, in the Great Rift Valley, Kenya. It is the largest volcano caldera in Kenya and the second largest volcano caldera in Africa. he Menengai volcano is considered one of the best-preserved Krakatau-style calderas in the world. Menengai has very little sediment in the caldera which is a thick mass of lava boulders and inaccessible ridges
TOWNS,CITIES,HOTELS AND RESORTS
Tafaria castle
Tafaria Castle is located in rural Kenya on a hill, next to the scenic Aberdare ranges overlooking the Laikipia plains and Mt Kenya. It started as a small Castle in the countryside in 2012. It has grown into a lodge, a conference center, a museum and center for the Arts
Those who visit here always see it as an ideal destination for those in search of a unique getaway in the countryside, ideal for rejuvenation, relaxation, meetings & special events- weddings, honeymoons & parties.
Villa rosa Kempinski
Offering the perfect fusion of European luxury and Kenyan hospitality, Villa Rosa Kempinski is a unique destination where guests can spend time relaxing or working.
In addition to the 200 rooms and suites distributed throughout its ten floors, you will also find exquisite dining opportunities here. The dining selection includes Cafe Villa Rosa, K Lounge our lobby lounge; Balcony Bar, Chinese Restaurant 88; Italian Restaurant LUCCA; and our Levant -style lounge and restaurant Tambourin.
The hotel also has a grand ballroom and Kempinski The Spa.
Lamu old town
Lamu Old Town is the oldest and preserved Swahili settlement on the East African coast, located on a small island off the north coast of Kenya, not far from the Somali border. There are no vehicles on the island and goods are still moved through the narrow alleyways of the town by donkey. Many of its cultural and architectural treasures – ornate courtyard homes with elaborately carved Arabic doors – date from the period of Omani Arab control from 1698 to the mid-1800s, during its Golden Age after a previous period of Portuguese rule. All visitors arrive at the quayside by boat to make their way through the narrow alleys, or along the waterfront to one of the small hotels, often based on a traditional Swahili mansion.
Lamu
Lamu or Lamu Town is a small town on Lamu Island. Lamu is home to the Maulidi Festival, held in January or February, which celebrates Mohammed's birth. It features a range of activities from "donkey races to dhow-sailing events and swimming competitions. The architecture and urban structure of Lamu graphically demonstrate the cultural influences that have come together there over several hundred years from Europe, Arabia, and India, utilizing traditional Swahili techniques to produce a distinct culture.
Mombasa
It is a coastal city of Kenya along the Indian Ocean. Mombasa is a centre of coastal tourism in Kenya. The Nyali, Bamburi, and Shanzu beaches are located north of the city. The Shelly, Tiwi, and Diani beaches are located south of Mombasa. Several luxury hotels exist on these beaches, while the less expensive hotels are located further away.
Mombasa's northern shoreline is renowned for its vibrant 24-hour entertainment offers, including both family entertainment (water parks, cinemas, bowling, etc.), sports (watersports and mountain biking), culinary offers (restaurants offering a wide range of specialties from Kenya, China, Japan, India, Italy, Germany and other countries) and nightlife (bars, pubs, clubs, discothèques, etc.).
As you have seen Kenya has beautiful spots that are waiting for you to visit. As you stroll down the Diani beach as the sun goes down ,go for a hike on Saturday morning at karura forest or treat your family to vacation at Mombasa the ambience and peace will leave you relaxed and in a good mood.